Semiconductors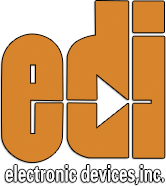 Electronic Devices Inc. offers an extensive selection of bridges, low and high voltage rectifiers, high voltage fast recovery diodes, and high voltage assemblies that are available in a wide range of voltage and current ratings, recovery times, case configurations, and terminations. Each is designed with special characteristics to match specific applications.
Our rectifier engineering and manufacturing experience has enabled us to create many new and patented designs. They feature advantages such as high thermal efficiency packaging, more efficient junction avalanche characteristics, 200°C operation capability, and more. For high voltage rectifiers, EDI developed and uses ultrasonically cut round chips that reduce corona leakage, thereby increasing reliability.
The manufacturing facilities of Electronic Devices Inc., in the United States and Asia are specifically designed for the efficient manufacture of rectifier products. EDI is staffed by engineers and technicians who specialize in the design and production of high performance and high quality rectifiers. All manufacturing is totally integrated to assure total production and quality control. Every step from silicon diffusion to testing is done in EDI facilities.
Production is supported by a sophisticated computerized system that provides the ability to satisfy unusual customer requirements by scheduling raw materials, controlling production and speeding deliveries while keeping costs low and maintaining the highest levels of service and quality.
EDI products are subjected to an extensive program of electrical, mechanical, life, and environmental tests before, during, and after production. This ensures the highest reliability and quality available. Underwriter Laboratories Recognized. ISO 9001 certified.
Read more at www.e-edi.com
Spara
Spara