Launch of new Dynamic Speaker Unit "SAL-40 Series"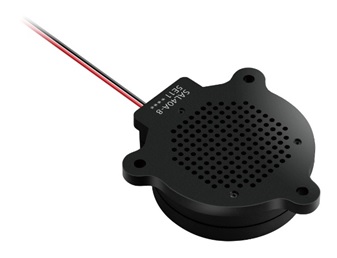 Foster Electric Co., Ltd. will launch a new Dynamic Speaker Series titled "SAL-40". Initial applications are warning and voice guidance in automotive equipment, robots, industrial appliances and other equipment. Foster will proactively introduce the "SAL-40" series to a broad range of applications projecting sales of 200,000 pieces in 2016 increasing to a monthly production capacity of 500,000 pieces per month.
"SAL-40" uses a 40 mm diameter speaker. It remains lightweight, about 20g, while integrating an enclosure to enhance speaker performance. This module can be readily used in a wide range of applications.
The unique enclosure design of "SAL-40" prevents the rise of resonance frequency, extends the frequency range from 600Hz to 3,000Hz, and meets customer's needs for high sound pressure output at low frequencies. The "SAL-40" simplifies customer integration, provides rich sound quality, and a flat frequency response.
The "SAL-40" maintains Foster's high quality and reliability standards with an Operating Temperature range of -40℃ to 105℃. In addition, the "SAL-40" can be customized based upon customer specific requirements. Such as length of pigtail wire, changing connector, water resistance, etc.
Main Specification
Type
Dynamic speaker
Rated input
0.5W
Coil impedance
8±1.2Ω
Specified sound output
100dB±3dB (600Hz)
(0.5W input /measured at 10cm)
Dimension
Case Diameter 48㎜, thickness 16㎜
Weight
20g
Spara
Spara
Spara
Spara
Spara
Spara
Spara
Spara
Spara
Spara